Barbarian Lord Costume
Barbarian Lord Details:
FAUX FUR COAT:
A lot of work goes into this coat, as every panel is cut so that it resembles real fur skins. It is all hand sewn together with leather thread so that the stitching is exposed. We use different stitching styles as well. The two toned leather braided ties are handmade. Once sewn, the coat is then professional aged with different painting and washing processes to give it a muddy, matted dirty feel
FAUX FUR BOOT COVERS AND GAUNTLETS:
Made of Faux fur and leather straps. These are professionally aged with
BARBARIAN TOP:
Fabric is dyed with a special technique that gives it a worn and uneven look. It is then professionally aged through different painting and washing processes.
BARBARIAN PANTS:
Fabric is dyed with a special technique that gives it a worn and uneven look.
CLAWS:
Molded from a real American black bear claw ( natural death ) and cast in impact resistant resin, the claws secure firmly to the wearers hand with an elastic palm strap, finished in the same fur as the jacket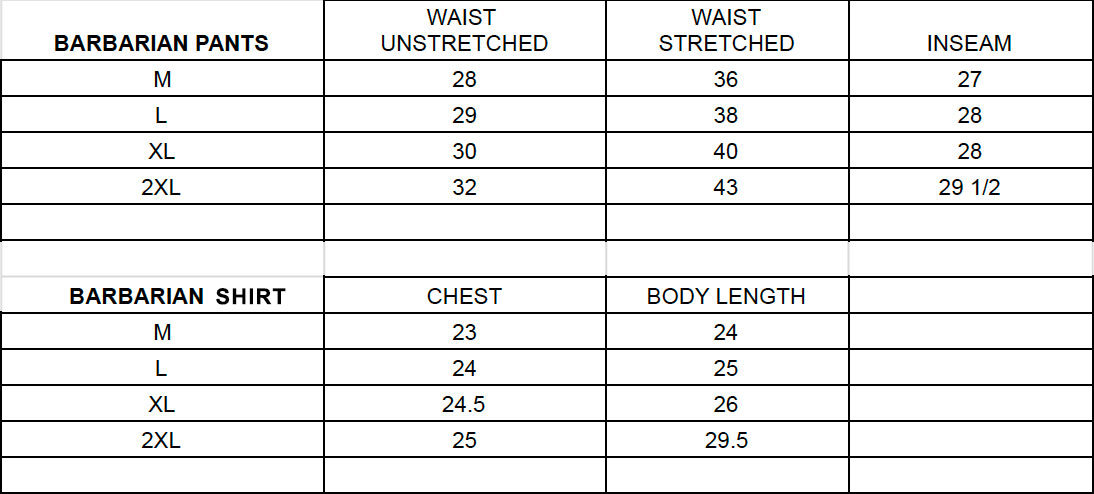 *All Measurements are in inches
Immortal Threads are movie quality costumes made by film industry professionals!
General Notes:
We pre-shrunk anything that sits directly on the skin so that it feels better when wearing, and so that there is no shrinking, and is sweat safe. Every element ( from patterns to fabric, trims, dying techniques…) and sewing & construction techniques we use is to better bring to life the character we are building/creating. We go through a lot of testing and development to get every element right.
Notes on production:
All garments are made in Los Angeles. They are either made in local factories or one at a time in a workroom. We make sure to only work with factories and vendors that have good working conditions for their workers, and where we know they are being fairly paid. We believe in uplifting the people we work with, and helping our partners grow. We source all fabrics and trims in LA. Most of our fabrics and all of our trims are deadstock, which is a sustainable way to source and create. We try not to use plastic bags which the fashion industry overuses, and when we are given things in plastic, we re-use them to avoid single use plastic waste.